Construction robotics is a key element of the future of the industry. In order to enforce change, truly promote a revolution of the construction sector, and increase the use of innovative technologies, the expanded use of robots and machine assisted applications will be the next biggest thing in the industry.
For example, the Construction Robotics market was valued at $44.63 million USD in 2020 and is expected to reach $95.10 million USD by 2026, mainly due to the increased interest and adoption of robotics in the construction industry after the COVID-19 outbreak in 2020. Wonder why there is so much expected growth surrounding this technology? Read along and discover more!
How construction robotics is going to change the industry forever
What is construction robotics?
Construction is still to this day one of the most labor-intensive industries in the world. It often entails repetitive and time-consuming procedures that could be completed more quickly and efficiently with the use of robots and automated technologies. Enter construction robotics! But how does it work?
Robotics is the branch of engineering that integrates computer science with mechanical and electrical engineering. In recent years it has expanded into the construction sector offering innovative solutions and opening a range of new possibilities. The following examples are just a few of the benefits that robotics offers the sector:
Processes simplification
Data digitization to improve decision making
Automation to facilitate management tasks
More concretely, an example directly related to the industry includes robotics solutions that automate heavy equipment and fleets for excavation, transportation, load lifting, concrete work, and demolition. At the same time, advanced building techniques are also taking advantage of robotics and machine assisted solutions for activities like industrialized construction and 3D printing.


Automation of the construction industry
Automation in the construction industry can improve productivity and transform collaboration within all the different sectors. However, some researches indicate that construction workers and business leaders are concerned about the impact automation might have on employee satisfaction, worker displacement, and emotional stress within the workplace. It should come as no surprise that automation sometimes calls for job cuts, but the reality is that the advantages of robotics in construction significantly outweigh the disadvantages.
When you think of the three greatest challenges the construction industry has faced in recent years, what comes to mind? It's likely that the lack of a skilled workforce, frozen productivity rates, delays, and cost overruns may have crossed your mind.
By automating certain tasks in the construction industry, we can significantly elevate productivity, attract more highly skilled talent, and conduct more efficient and timely processes saving thousands of dollars in projects.
McKinsey reports that there are three primary opportunities for automation in construction:
Automation of traditionally physical on-site tasks, such as robots laying bricks and machines paving roads.
Automation of modular construction—or rather production—in factories, including 3-D printing of components such as facades.
Digitization and the subsequent automation of design, planning, and management procedures, as well as the vast efficiencies that can be created on-site, like the ones we find when using BIM.
Main advantages of construction robotics
Boost task efficiency: Robots and automated machinery do not encounter human symptoms such as fatigue, burnout, or lack of interest in a repeated process. Therefore, robots can be more efficient in handling these types of tasks, since the average human might find them monotonous or may even be prone to making mistakes because of exhaustion and environmental distractions. That is not to say that robots are perfect; they must be maintained regularly in order to provide a consistent quality of work that brings tremendous efficiency to a construction site.
Reduce operating costs and wastage: More work in less time calls for less operational costs and less waste being produced and disposed of at the jobsite. Since robots can operate for much longer and at higher levels of precision than human beings, this benefit is intrinsic. Yet, humans are still needed to program, control, and operate this machinery. That´s why there´s a demand for a more highly skilled workforce who can learn to manage these new technologies that are coming into play.
Reduce the number of injuries during construction: A more controlled environment means less injuries at a jobsite. The construction industry has long been one of the most dangerous due to the nature of the job: heavy lifting, hazardous elements, and somewhat perilous terrains or platforms. The implementation of construction robots can result in a significant reduction of injuries on construction sites.
Programming to meet specific needs: Since the Romans, the industry has continuously evolved and become more sophisticated. Yet, many modern-day methods of construction are still being carried out the way they were done decades ago. In cases where innovative construction companies like ourselves wish to do things differently, robots are a likely friend. They can be programmed or designed for different tasks, giving construction companies the chance to be more creative and efficient with their processes and execution.


Robotics in the construction industry: Main solutions
Precast & new methods
Precast and modular systems take center stage in the construction industry thanks to their simplicity, speed and economy. In 2020, in the United States only 3% of new single-family homes were precast, whereas in Japan 20% of new constructions were expected to be done with the precast process.
Every day more companies opt for these types of systems where the advantages offered by robots is essential, both in the manufacture and the assembly of parts. It is necessary to point out that the most popular solutions are the following:
In some "off-site" installations the manufacture of components is automated with the support of robots supervised by workers. Then, in the assembly process, the machines automate the assembly of these pieces.
It is increasingly common to use machines for brickwork, saving time and increasing safety on construction sites.
Today, 3D printers are, one of the main applications of robotics in construction allowing for the manufacture of various materials and structures.
Earthmoving
Due to the very nature of this first phase of construction, there is a greater number of unforeseen incidents, most of which are related to workers' safety.
To carry out earthmoving, which is the initial excavation or embankment of land before it becomes a job site, it is necessary to invest in both human and material resources that will regrettably be exposed to risk throughout the entire process, from ground preparation to excavation.
Thus, advanced construction robotics are key to facilitating these projects since they can increase security in several ways; for example, by automating clean up and earthmoving tasks, or by managing high risk materials.
Paving
Covering floors with pavement can be done with different materials and throughout multiple spaces. However, it is required that resources adapt to the conditions of the jobsite in order to achieve cost savings and greater results.
The identification of data through radars, area reading and 3D modeling stand out as the most common uses of robotics in this phase of construction. In fact, there are robots already designed specifically for the automatic paving of roads.
Project management and demolition
Finally, robotics has generated many of its own solutions, such as drones or demolition robots. In the case of the former, they can help to manage projects. Hundreds of companies already use drones for various actions ranging from 3D modeling to space detection. In the case of demolition robots, they allow job sites to reduce time and costs because they are able to dismantle structures in record time.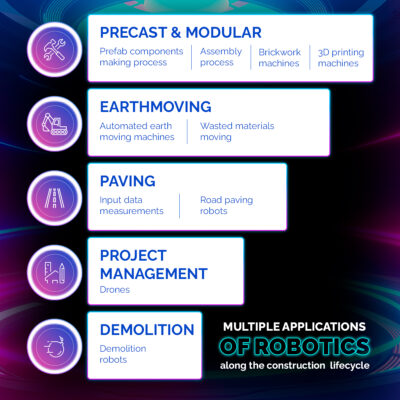 Some examples
COBOD
As leaders in the 3D printing industry for the construction sector, this Danish startup strives to achieve full automation in the construction industry by designing robotic 3D construction printers and automated processes for building sites. Together, CEMEX and COBOD, a recent addition to our investment portfolio (https://www.cemexventures.com/cemex-invests-in-cobods-revolutionary-3d-printing-tech/), have developed a solution for 3D printing that enables the use of conventional concrete and local, readily available materials with this new technology.
Built Robotics
The startup that builds the robots that build the world. Pioneers in the industry, Built Robotics created the world's first autonomous solution for excavators called the Exosystem™. The team developed the technology to create fully autonomous trenching robots that are currently deployed today across the $1 trillion earthmoving industry, building critical infrastructure in the energy and telecom sectors, among others.
CEMEX Ventures' contribution to robots in construction
Our approach is simple: we identify the opportunity, and you have a solution that fits said opportunity. You want a partner that will help you propel your robotic solution, and we wish to be that partner.
With initiatives like our annual Construction Startup Competition and our mission to search for and invest in solutions that can help us drive the future of the construction industry, we are getting entrepreneurs closer to CEMEX and other potential investors who wish to increase the use and adoption of robotics in the construction industry, regardless of what position they maintain in the value chain.
"We are looking at all possible solutions, from 3D printing machinery like COBOD with whom we can develop the material used to make 3D printed housing, to industrialized construction that can help solve the housing crisis in urban areas" expressed Gonzalo Galindo, Head of CEMEX Ventures.
If you are an entrepreneur working in a startup that can help us propel the use of machinery and robots in the industry, apply today to the biggest challenge for Contech entrepreneurs and let´s see what you are made of!