A huge amount of data is generated at every single stage of a project's life cycle, and this is where Building Information Modeling (BIM) comes into play. Do you know what this innovative trend is all about?
BIM is not a type of software but a methodology. Building Information Modeling refers to a highly collaborative real-time process for the generation and intelligent management of a building's data which is gathered during its life cycle.
The main added value of BIM is the way in which it groups the information from all of the stakeholders involved, including data such as: geometry, environment, geography, components, spatial relationships, costs, etc.
This methodology makes building and infrastructure planning, design, construction and management much more efficient and it has become a central concept in the digital transformation of the construction industry, as well as making a real impact in terms of sustainability.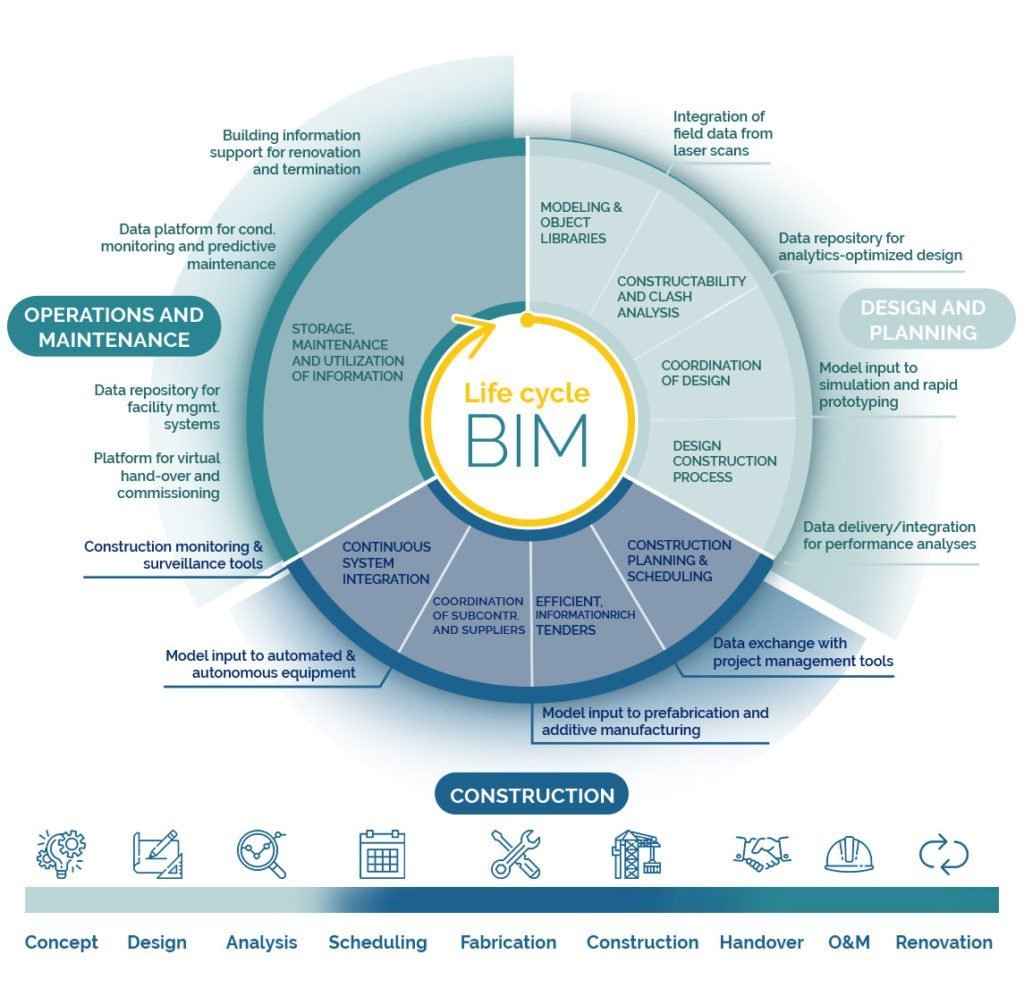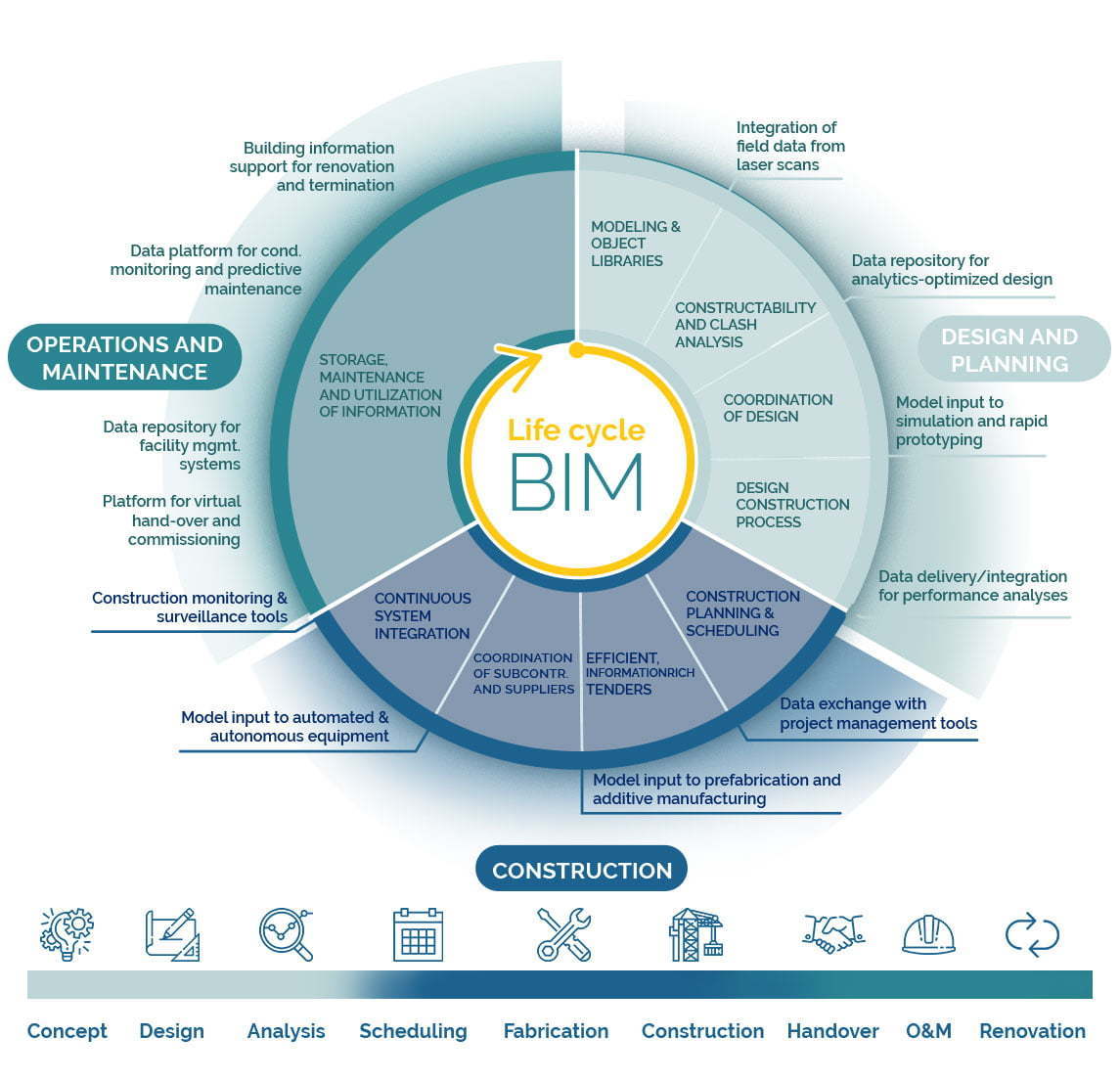 How does BIM optimise each phase of the construction process?
Building information modeling is a methodology which is increasingly becoming commonplace in the construction industry, and can be implemented in different ways throughout a project's life cycle:
Design and planning. It is a very useful tool for simulation, prototyping and analysis, and it also allows for the inclusion of data from laser scanners. It works as a data repository for the optimised design and performance analytics.
By implementing BIM considerable savings can be made, not only in terms of time but also in terms of resources. Many times unforeseen situations or incompatibilities can occur during a construction process – for instance, a pipe colliding with another element or non-compliance with regulations – and these are situations that traditionally would have to be resolved on site.
However, by implementing this process we are now able to avoid these issues thanks to the fundamental role that BIM plays in the planning procedures, and thanks to the early detection of potential problems in any of the different parts that make up a project.
Construction phase. It collaborates in the exchange of information with project management tools, in the monitoring of construction work, and in the coordination with suppliers, among other aspects.
BIM enables the state of construction to be visualized, meaning therefore that it is possible to compare this with the expected evolution as indicated in the initial project planning at any given time. This offers optimum control of the deliveries of the different elements of a project and makes it possible for possible obstructions to be detected.
Operations and maintenance.  This methodology is very practical for deliveries and orders, as a data repository for service management systems, for predictive maintenance and for the renovation and termination of works.
The BIM methodology goes beyond just construction work, in fact, once the infrastructure has been built it provides the client with a strong tool for managing the installations and for dealing with maintenance issues: installation date, materials, their useful life, etc.
The main advantages of BIM
This system is becoming increasingly prominent in construction projects given that it allows for the optimisation both of the time and resources allocated for these tasks. However, implementing this system does not come without new challenges; to be able to fully make use of the extensive range of improvements that this system offers, we must invest in the equipment and resources necessary to sustain it. 
Through BIM it is possible to directly structure all project data (dimensions, characteristics, materials, prices, etc.) meaning that we can compile all of the information on each of the phases of the process in one single file.
Likewise this methodology allows for the quick and efficient adaptation and updating of processes as all of the actors can input their information in real time and interact easily with other related technical software.
This innovative methodology offers countless advantages and uses, and it is gaining ground in the construction sector. In fact, it is estimated that by 2024 it will reach a market worth almost 20 billion dollars. Likewise it is anticipated that more technologies will be incorporated which will allow for the digitalization of this process. We are very interested in areas such as virtual reality, offsite construction and 3D printing which, together with BIM, will enable clients to discover exactly how an installation will turn out, as well as automate the creation of mock-ups.