A huge amount of data is generated at every single stage of a project's lifecycle, and this is where Building Information Modeling (BIM)comes into play. Do you know what this innovative trend is all about?
BIM is not a type of software but a methodology. Building Information Modeling refers to a highly collaborative real-time process for the generation and intelligent management of a building's data which is gathered during its life cycle.
Continue reading to learn more about its benefit in the built industry and how it enhances different stages of the construction process.
What does BIM stand for?
BIM stands for Building Information Modeling. The main added value of BIM is the way in which it groups the information from all of the stakeholders involved, including data such as: geometry, environment, geography, components, spatial relationships, costs, etc.
This methodology makes building and infrastructure planning, design, construction, and management much more efficient and it has become a central concept in the digital transformation of the construction industry, as well as making a real impact in terms of sustainability.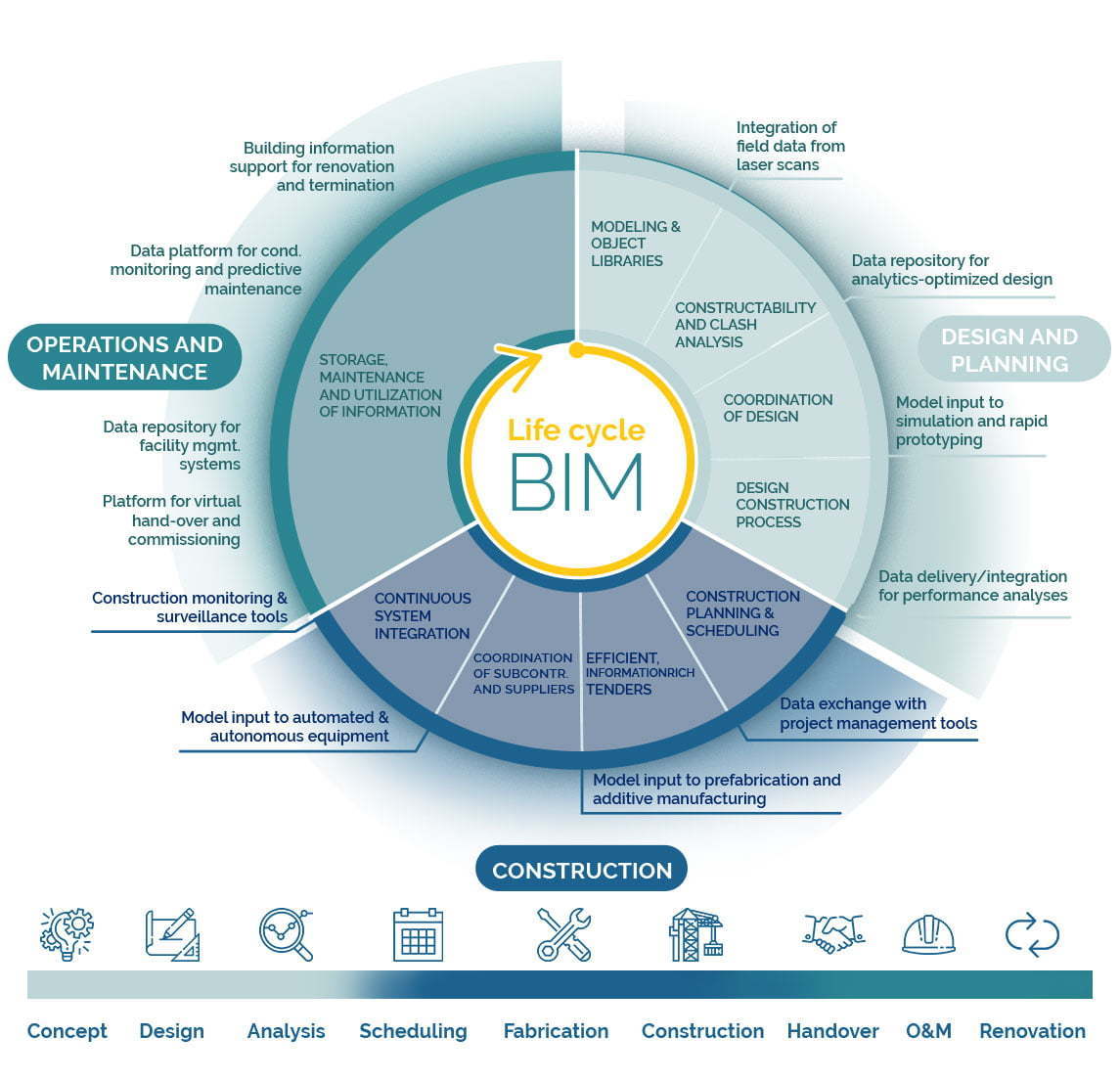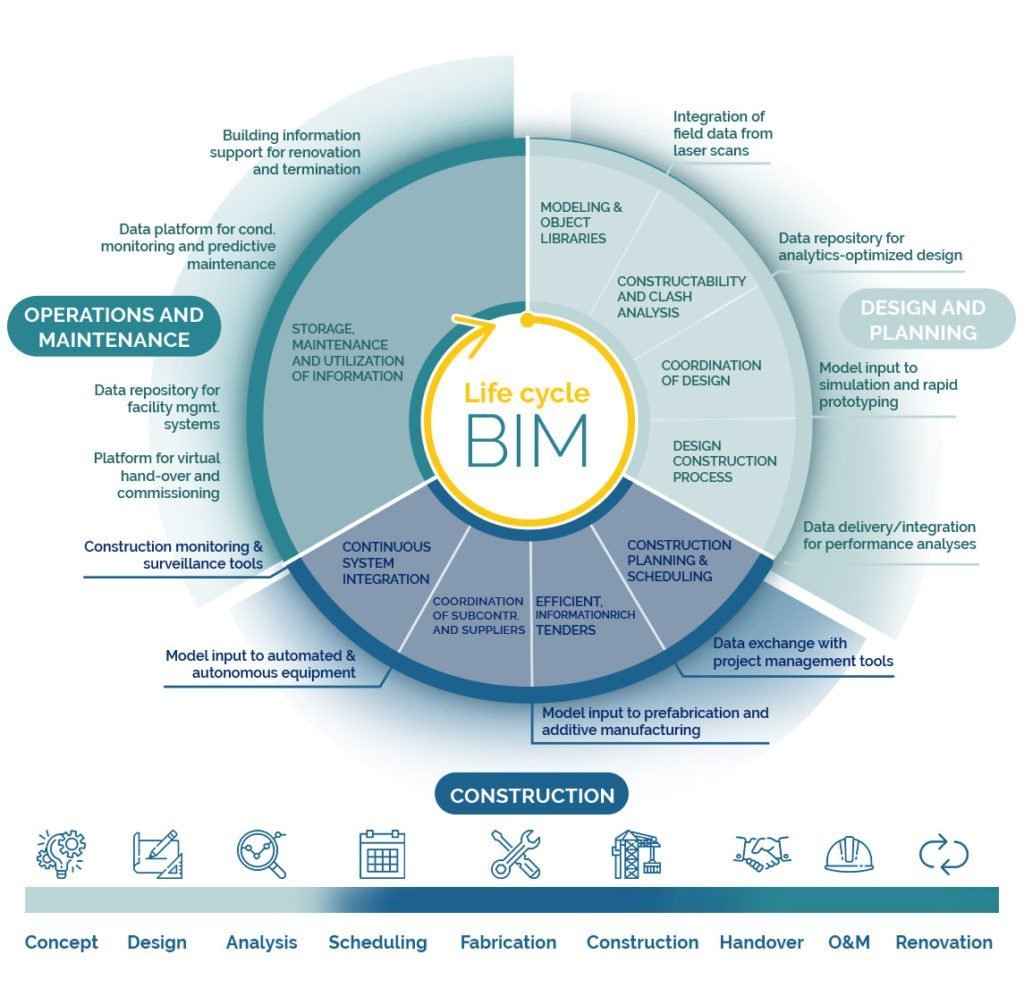 First introduced in the market in 1992, BIM began gaining traction a little over 10 years later. Nowadays, besides being an acronym that catches the eye of many looking into innovation in the construction industry, it has become an essential part in the sector.
With governments enforcing the use of BIM in new projects and a growing understanding of the benefits it offers for the AEC industry, the BIM global market is expected to grow from the 4.5 billion USD reported in 2020, to 8.8 billion USD by 2025, with North America being the spearhead followed by Europe and Asia Pacific.
How does BIM work?
Building Information Modeling integrates smart insights to tangible aspects of a building. Not to be confused with Computer Aided Designs (or CAD), whose purpose is focused solely on drafting and design, BIM uses CAD as a medium for bringing broad-scoped information about a building together. Simply put, BIM makes CAD drawings come alive; it makes them become smarter, more dynamic and provide much more information of the many systems that can be integrated into a building. When implemented effectively, it can also influence changes in a CAD design.
Moreover, it also helps to digitize many aspects of the building's lifecycle, going further beyond than only the design phase. In times when smart buildings are also becoming all the rage, it's crucial that facility managers also become smarter in their ways of handling them. Can you guess what can help them? Yes, BIM! This approach may provide complete context for buildings and the systems that regulate them, making the I in BIM the epitome of information-driven decision-making.
Take a deep dive into our very own portfolio company IPSUM, which offers a solution that maximizes all the benefits that BIM has to offer. These past winners of Construction Startup Competition 2017 have been trailing from South America to North America with their easy-to-use ProPlanner system and gaining traction as they continue to grow in the industry. Just last year, we interviewed their CEO Franco Giaquinto who gave a further explanation of their approach and how they are betting on BIM to enhance the industry's efficiency.


The main advantages of BIM
BIM is becoming increasingly prominent in construction projects given that it allows for the optimization of both the time and resources allocated for these tasks. However, implementing this methodology does not come without new challenges. To be able to fully make use of the extensive range of improvements that this system offers, we must invest in the equipment and resources necessary to sustain it. Luckily, with the expected adoption of BIM technologies growing exponentially around the world, the benefits will become increasingly clear to the few non-believers who might still be out there.
Amongst its many benefits, some advantages of Building Information Modeling are:
Sustainability
Sustainability, a key and growing component of the design process of a structure, can be easily addressed by BIM. For instance, engineers can perform a better environmental analysis, exploring aspects like a building´s orientation, energy consumption and daylight to help identify the best strategies that enhance its energy efficiency, waste management and water conservation. In a lower scale but equally important, thanks to the use of digital platforms and cloud computing, BIM can also help reduce paper usage and waste during the design and construction phases.
Increased Efficiency
Using BIM is allowing construction projects to run shorter lifecycles with greater efficiency, as all aspects of the pre-construction and planning phases become easier to manage and faster to complete. For example, architects can create designs faster with BIM software and project managers can produce more accurate estimations of its costs through BIM models.
Enhanced Communication and Collaboration
BIM facilitates the integration of different people involved in the project, allowing to reduce fragmentation and miscommunication in the processes. Since everything can be digitized using BIM-related software, all stakeholders can access plans and other related documents whenever they need to (plus ensuring they do so on an updated and federated model). This helps to reduce errors and rework that come from using incorrect or inaccurate information.
Jobsite Safety
The jobsite worker's safety has always been a priority for both CEMEX and the industry. Nowadays, BIM allows for the improvement of such aspects as 3D models help identify hazards and potential damages much easier and in a faster way that through 2D drawings of a structure.
Also, considering other factors like a potential spread of COVID-19 on site during the pandemic, BIM can offer virtual walkthroughs of a project allowing to continue with ongoing works without the need to expose workers unnecessarily.


Other Advantages
As stated earlier, this innovative methodology offers countless advantages and uses and is rapidly gaining more ground in the construction sector. Likewise, it is anticipated that more technologies will be incorporated into its capabilities, which will soon allow for the full digitalization of the whole value chain. We are very interested in the further development of areas such as virtual reality, offsite construction and 3D printing which can enable clients to discover exactly how an installation will turn out, as well as automate the creation of mock-ups and overall foster innovation into the industry.
And who is leading the BIM efforts in the industry? According to a recent report from the Market Research Future, North America, Europe and Asia Pacific are quickly becoming the kings in BIM adoption.
North America is leading in the investment and adoption of BIM technologies, the presence of top industry players, rising investments to develop advanced infrastructure facilities, and increased adoption of cloud-based engineering are adding to the BIM software market growth in the region.
In Europe, the BIM software market is predicted to have the second-largest share up until 2026. The growing construction sector, government and private entity regulations, and high demand for BIM software by building owners, architects, and contractors is adding to the BIM software market growth in the region.
Not to be missed, the Asia- Pacific region is predicted to grow its BIM market at a very fast pace. With their focus on digitalization, growing investments deals made by the real estate sector, and the government developing advanced infrastructure for commercial, industrial, and residential sectors, growing adoption of cloud platforms, the presence of highly matured and experienced construction market in Japan, high growth rate, the rapid development of the construction industry in India, and increasing adoption of advanced technologies to enhance the competitive edge of the design and construction industry in China are adding to the BIM software market growth in the region.


How does BIM optimize each phase of the construction process?
The construction process isn't just that of building something. When you start listening to all the noise of trucks coming in, workers beating the sun and beginning their duties in the early morning, and a structure emerges right in from of your eyes like a piece of magic, a lot has been going in prior to that moment. This magic is the result of all the steps involved around the building of something, regardless of its size and complexity, going from an idea to a reality and all the long conversations in between with the stakeholders that get involved in the project.
Although it can be a long and complicated process, BIM can help to optimize the different stages of the process and make it much more efficient and easier to handle for everyone involved. From streamlining the design and planning process to organizing multiple contractors, managing expensive and dangerous equipment, and working on a large building site, let´s take a look at how this innovative methodology can be implemented in different ways throughout a project's lifecycle and benefit the different phases of the construction process.
Design and planning
The design and planning phases of a construction project can best be viewed as an integrated system. The design process is where the creation and description of a new facility takes place. The construction planning process identifies the activities and resources required to make that design a reality.
With BIM, a very useful tool for simulation, prototyping and analyzing during these stages, the inclusion of data works as a repository for the optimized design and performance analytics.
By implementing it, considerable savings can be made, not only in terms of time but also in terms of resources. Many times, unforeseen situations or incompatibilities can occur during a construction process –for instance, a pipe colliding with another element or non-compliance with regulations– and these are situations that traditionally would have to be resolved on site.
However, through BIM we are now able to avoid these issues thanks to the fundamental role that BIM plays in the planning procedures, and thanks to the early detection of potential problems in any of the different parts that make up a project.
Construction phase
Following the same storyline as the previous bullet, we can describe the construction phase as the implementation of a design envisioned by architects and engineers. In both design and construction, numerous operational tasks must be performed with a variety of precedence and other relationships among the different tasks. As BIM enables many stakeholders and people involved in a project to come together and facilitate their collaboration, the exchange of information with project managers through smart tools, the monitoring of the construction work done on site, and the coordination with suppliers and others in the supply chain becomes much more streamlined and efficient.
BIM enables the state of construction to be visualized, meaning therefore that it is possible to compare this with the expected evolution as indicated in the initial project planning at any given time. This offers optimum control of the deliveries of the different elements of a project and makes it possible for possible obstructions to be detected.


Operations and maintenance
One of the last legs of a functional building´s lifecycle is essentially, one of the most important ones. Beginning with the handover and commissioning of a building once the construction phase is done, implementing virtual platforms that integrate BIM technologies can help make the process smoother and more seamless.
Since the BIM methodology goes far beyond just construction work, once the infrastructure has been built, this can also provide the client and facility managers with the correct tools to operate MEP and HVAC plus deal with maintenance issues via a digital twin: installation date, materials, lifespan, etc.
Take a look at our previous blog entry regarding smart buildings to read a further explanation of how BIM plays a crucial role in the implementation of sensors and smart technologies that guarantee that operations and maintenance of assets are done in the most efficient and innovative way.