Circular economy is one of the secret weapons the construction industry can implement to tackle one of its biggest challenges: being one of the world´s largest consumers of raw materials. As the call to stop treating resources as unlimited, circular models are the way to go for the sector.
Al these new models have the aim of mitigating the waste management challenges faced by cities, governments, and communities around the world. In this regard, the actors maximize the use of waste produced by society and other industries within our plants.
During 2021, CEMEX managed close to 23 million tons of waste and non-recyclable by-products, which is over 57 times more waste than we sent to landfills. CEMEX is responsible for recovering 95% of the total waste generated for reuse or recycling within its operations. As a result, only 5% went to landfills.
Currently, only 40% of construction waste is recycled or reused in the entire sector, with most of it not being used in the creation of new buildings. With a market valuation of global waste recycling and circular economy estimated at over $500 billion USD in 2021, the opportunity to embrace circular economy models is up for grabs and will surely benefit all in the construction value chain both in the short and long term.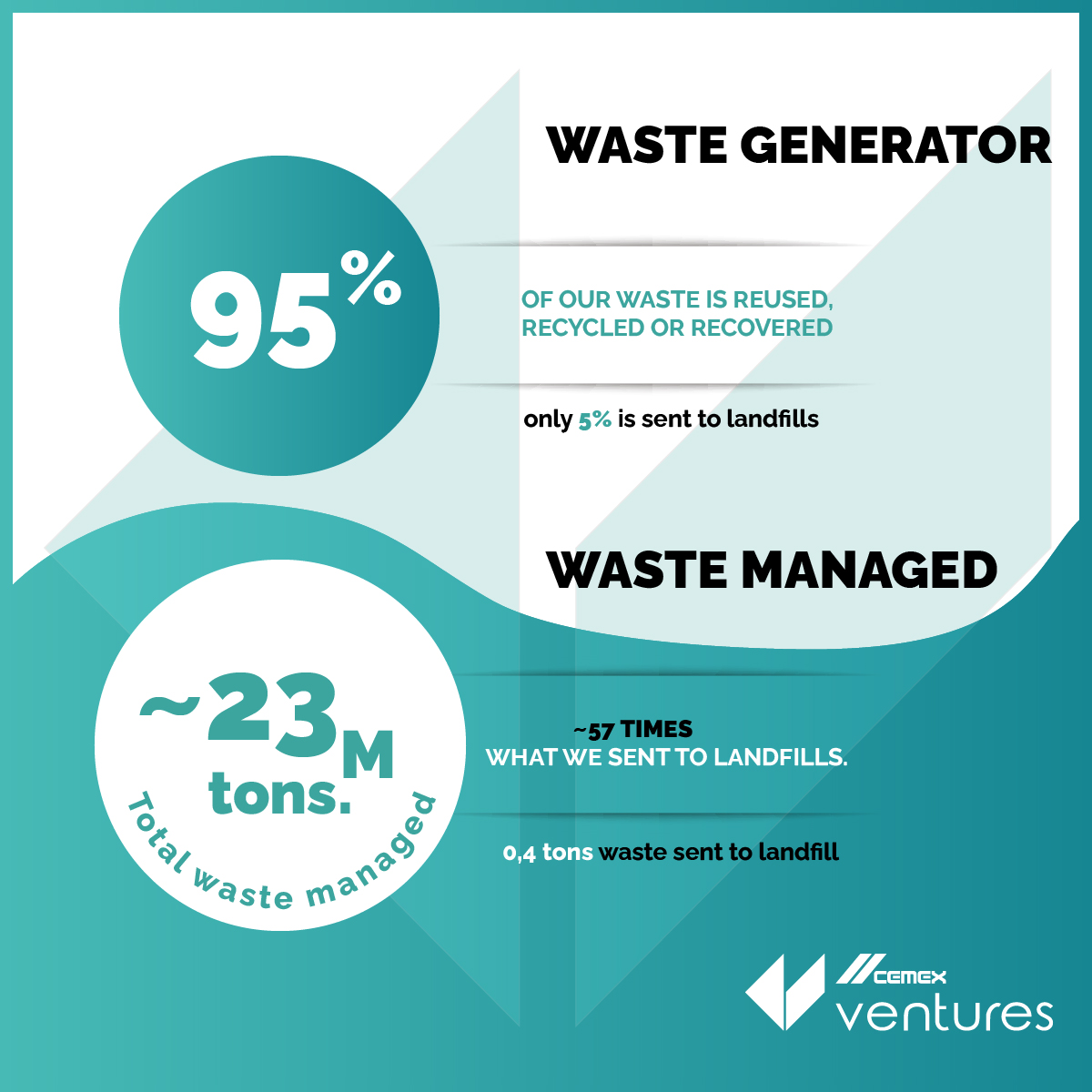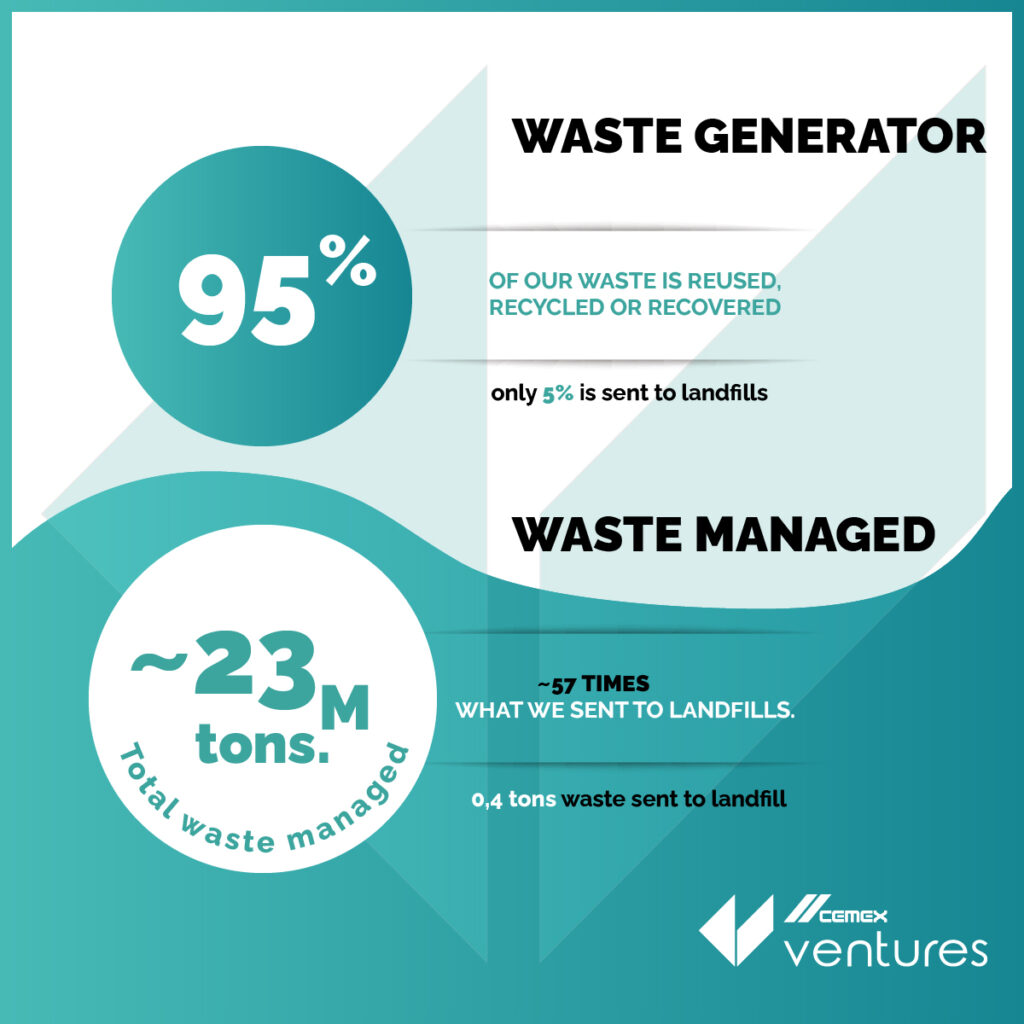 What is circular economy
The term circular economy refers to a relatively new production and consumption model that guarantees sustainable growth over time. With a circular economy, companies and individuals alike can optimize the use of resources, reduce consumption of raw materials, and recover waste by recycling or giving it a second life as a new product.
As a waste-intensive industry, construction has the potential to greatly impact circular economy business models. Why keep on searching for new materials and resources for new construction projects when most of what you need is already up for grabs from another project? This is the question that drives a circular mentality.
Principles of this economy model
The goal of a circular economy model is to make the most of the materials and resources available to society by applying three basic principles: reduce, reuse, and recycle. Therefore, the life cycle of products is extended, waste is given a new life and does not end up in landfills, and a more efficient and sustainable production model is established over time.
In recent years, a growing focus on material and product circularity has impacted new production models that close the loop on material sourcing and help drive cross-industry collaboration. Likewise, the increased efficiency of reused, recycled, and repurposed materials will continue being supported by the incorporation of advanced innovative technologies.


Linear economy vs circular economy
The World Green Building Council shared that a linear economy has been the ruling mindset of the construction industry for a very long time: take, make, waste. Yet, this linear mindset has begun to shift towards a more circular one, where the aim is to replace virgin materials with reused and recycled ones to the furthest extent possible.
The shift from linear to circular is a journey. While some may be able to leapfrog using new construction methods, others will have to settle for slow and steady progression. Nonetheless, experts believe that the construction industry is on a positive pathway to renegade its linear models.  "Circularity in the construction industry may seem like a challenge, but I believe we are playing in an industry where promoting such practice is almost intrinsic to the nature of our business" expressed Gonzalo Galindo, Head of CEMEX Ventures. "We can reuse our own resources in more than one project and reduce waste significantly while still maintaining the same high standards as when materials are new. It´s a win-win."
Either way, this shift needs to happen; we are running out of natural resources. And since the entire idea behind the circular economy is to stop extracting virgin materials and start using materials that are already "in the loop", it's our best option.
What are its benefits?
The benefits of adopting a circular economy model in construction are evident:
less exploitation of natural resources,
less waste generation,
less landfills dependency,
And the list goes on! Since plenty of the material extraction processes generate unhealthy environmental impacts, the more circular economy, the lower will the carbon dioxide emissions and energy consumption be.
Moreso, the pandemic and other global disruptions to the supply chain have taught us to reduce the reliance on other countries when sourcing raw materials. With a circular approach, the construction industry can surpass this hurdle and use more "in-house" resources, allowing for less interruption and halts in the value chain, especially in Europe where many countries depend almost completely on other countries to obtain their resources.
Another circular economy benefit is the potential employment increase. According to the European Union, by following this novel approach, 700,000 new jobs will be created by 2030.
Implementing circular economy models into the construction mix can have positive impacts on wellbeing, for example, and has been shown to increase productivity in the industry by up to 10%.
By integrating new business models along the value chain, the industry can expect a global market growth of more than $660 billion USD by 2025 with an annual growth rate of 12%. Europe will play a leading role in adopting circular economy models, with a market share of $264 billion USD.


An example of circular economy
Based on the principles of the circular economy, CEMEX contributes to mitigating the waste management challenges faced by cities and communities around the world.
At CEMEX, we have the know-how to responsibly acquire, process, store, and recover energy from waste. Cement kilns are ideal for safely and sustainably disposing of non-recyclable waste, which can be used as an alternative to fossil fuels instead of being incinerated or landfilled.
We are also extracting waste minerals for use as alternative raw materials. This is possible because in the cement production process we replace part of the clinker with by-products from other industries such as fly ash and slag. We also use construction and demolition waste as alternative aggregates.
We aim to maximize the reuse of clinker kiln dust and when this is not possible, we strive to recover these by-products for use as soil or road stabilizer, fertilizer, or road de-icing agents during the winter.


What is CEMEX Ventures doing to advance the circular economy?
As a lead investor in the Contech ecosystem, CEMEX Ventures´ goal is to identify the trends that are driving change in the construction industry and the startups and entrepreneurs who are helping enforce these changes in the sector. When it comes to circular economy, it´s imperative for us that the projects we support take into consideration green construction practices, ergo including a circular economy approach in its very own business models.
Last year, be partnered with the startup Soil Connect, a digital marketplace for industry professionals that connects users who need to dispose of soil with those who need it, preventing waste from ending up in landfills and giving new life to demolition and extraction materials. We invested in the startup we saw it offered a clear response to the millions of tons of materials that are generated in excavation projects. This allows us to have a solution in our portfolio that more efficiently, responsibly, and cost-effectively manages waste and materials.
Similarly, one of the winners of the 2021 Construction Startup Competition introduced us to a new circular model. Developed in Austria, the startup wastebox allows companies to organize the disposal of their construction site waste easily, quickly, and transparently. The platform enables companies to practice circular economy and get their disposal organized sustainably.
We know there are more entrepreneurs out there developing solutions that can help promote more circularity and we can´t wait to meet them to see how we can help them grow their businesses and work together.
We invite you to apply to this year´s Construction Startup Competition under the "Green Construction" category and shoot your shot. You might be the next startup in our portfolio and lead the charge for circular economy models in the construction sector. The moment to do so is right now. Are you ready?