Innovation isn't linear, nor is it subject to limitations. Real innovation is derived from iterative processes that require constant user feedback and constant improvement. In fact, what defines innovation is its ability to go beyond existing limits. The iterative mechanisms behind the most profound innovations of the last decade have resulted in popular digital platforms like Airbnb, Uber Eats, Netflix… 
And StructShare. In the last 20 years, we've witnessed the proliferation of different software seeking to improve the management and efficiency of the construction industry's supply chains. The latest gamechanger at the forefront of our industry is StructShare, whose procurement SaaS makes materials management more intelligent, communication frictionless, and data access seamless for a more connected supply chain.  
By means of its Corporate Venture Capital and open innovation unit, Cemex Ventures, Cemex is investing in this startup taking the industry by storm! Read more to learn about StructShare and how our investment has far reaching impact in the construction supply chain.  
Let's take a deeper dive!
Deep Dive: StructShare x Cemex Ventures
Why – are we investing in StructShare?
Cemex Ventures takes a global and exhaustive view of all the up-and-coming startups improving the different stages within the construction supply chain, one of its four market-driven opportunity areas. Within the complex supply chain ecosystem, we also breakdown different point solutions according to Cemex's key stakeholders: builders, suppliers, logistics providers, and other users (owners, designers, traders, etc.). With our general contractor and specialty contractor stakeholders, we've identified the potential for progress within the area of digital procurement, which StructShare is solving.  
Put simply: Cemex is partnering with StructShare to improve intelligent building materials management, communication, and the flow of data with their scalable solution that saves time and costs, improves productivity, reduces human errors, and manages project costs. This is because StructShare helps builders manage the procurement process for all materials, from the BOM (bill of materials) to payment.
What – is this investment about?
Cemex's customers are always at the core of our ventures. We aim to connect the most valuable technologies with Cemex's core business and customers in order to fulfill our promise of fostering the construction industry revolution. This investment is about providing a superior customer experience enabled by digital technologies to contractors and suppliers operating in the construction value chain.  
We are prioritizing investments that contribute to Cemex's Digital Innovation in Motion ecosystem. And our alliance with StructShare attempts to further digitize the industry while prioritizing investment in and support of new technologies that improve the timeliness and efficiency of different activities within the construction supply chain. 
But let's dive just a little bit deeper…
How – will StructShare and Cemex help each other achieve their objectives?
This partnership seeks to help StructShare to expand its geographical scope with Cemex's advanced R&D departments and global presence and network, as well as through Cemex Ventures' proven growth strategies and team of specialized investors. Most importantly, Cemex will help the startup carry out its vision to become a construction materials operating system with advanced data and supplier integration. 
In 2017, Cemex kickstarted the digital transformation of the building materials industry with the launch of its leading end-to-end multichannel platform, Cemex Go. And through our investment in StructShare, we are accelerating its evolution. In the short term, we are confident that StructShare can act as the bridge for Cemex Go to connect all platforms together for a seamless contractor procurement workflow, essentially streamlining the two tools into one easy to use location. More than 50,000 Cemex customers are using Cemex Go, representing 93% of cement and 85% of ready-mix concrete customers. However, we're dedicated to improving Cemex's digital services by expanding this offering to other trades in one easy to use platform integrated with other commonly used industry software.  
By prioritizing digital solutions, Cemex is also contributing to its sustainability strategies. Digitalization facilitates a better organization of supply chains, the transition to a paperless industry, and an increase overall in efficiency.
Who – is StructShare?
The early-stage digital procurement software company first made it onto Cemex Ventures' radar when they applied to the Construction Startup Competition in 2021. As the startup kept advancing, they were featured in our TOP 50 Contech Startups list of 2021 under the Construction Supply Chain vertical. And now, in early 2023, we're making our interest in StructShare official through this investment. It just goes to show that a lot can happen in two years… 
Collaboration is a fundamental component in the revolution of the construction industry and StructShare's software is integrated with some of the leading project management and accounting and financing platforms like Procore, Sage, QuickBooks, and Autodesk. 
You may be wondering what makes StructShare different from its competitors…  
The answer? StructShare is the only procurement digitalization company for all trades and materials with positive traction and growth.  While there are other advanced procurement solutions currently on the market, they're only focused on one type of material. The StructShare team possesses an extensive background in construction and the Contech SaaS space. Take a closer look here: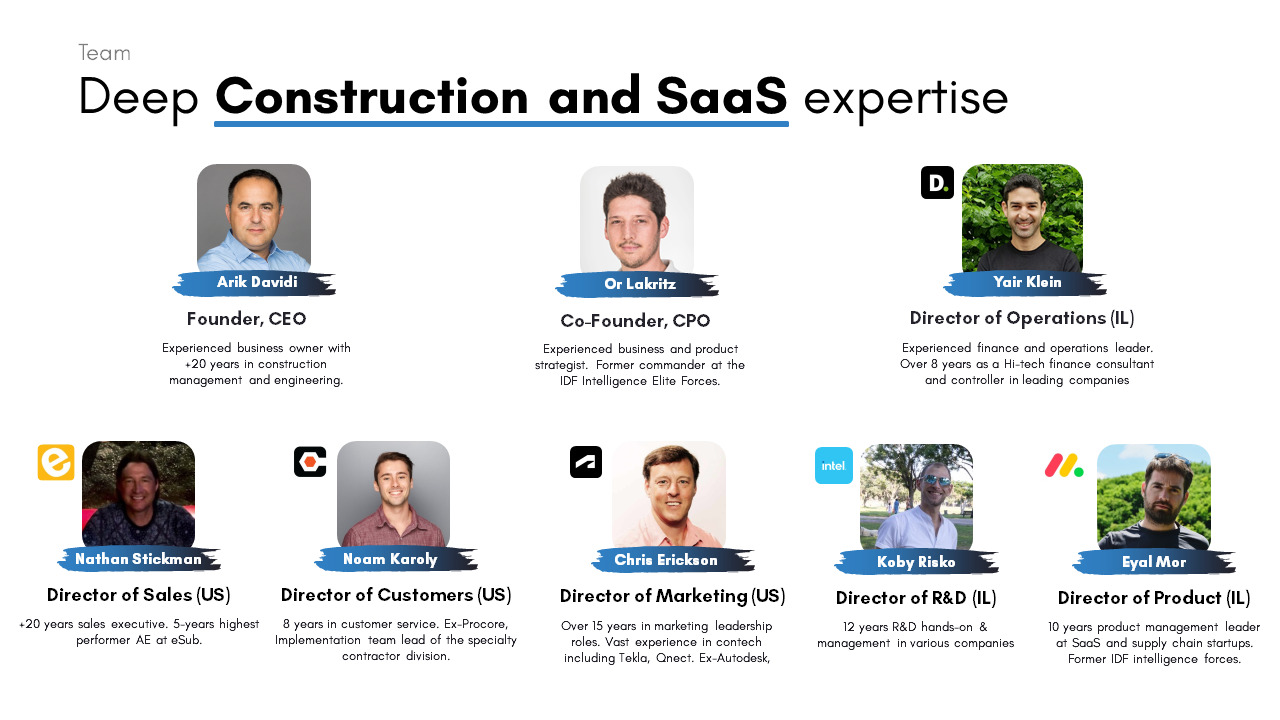 When – will the partnership begin?
Our support doesn't end with our investment in StructShare. Cemex Ventures and Cemex will offer ongoing support by hiring the best-in-class team, network, and partners, along with connecting StructShare to its regional departments in the United States and Mexico. Moreover, Cemex Ventures will track the startup's progress and achievement of crucial milestones in order to ensure that the three parties are all working together towards an integrated Supply Chain platform.
Where – does StructShare operate?
Originally founded in Israel, StructShare is now based in the United States in Austin, Texas. However, the startup is currently operating throughout the United States and intends to scale geographically.
Now what?
Like all our portfolio companies, we'll keep you updated with all the news about StructShare through our digital channels: blog, social media channels, and our biweekly newsletters. 
But if you're an entrepreneur with a solution that's answering certain pain points in the construction supply chain (materials tracking, materials marketplaces, logistics, fleet management & dispatching, last-mile deliveries, and more!), we invite you to apply to the Construction Startup Competition 2023 launching next month.