Mind the Bridge, European Commission's Startup Europe Partnership, and the International Chamber of Commerce (ICC) hosted the 2021 Corporate Startup Stars awards.
CEMEX Ventures, the company´s corporate venture capital and open innovation unit, has focused on finding the most innovative solutions for construction since 2017.
CEMEX, S.A.B. de C.V. ("CEMEX") (NYSE: CX) was recognized as one of the top companies leading open innovation during the 6th annual Corporate Startup Stars Award. Launched by Mind the Bridge under the European Commission's Startup Europe Partnership initiative in 2016 and in partnership with the International Chamber of Commerce (ICC), the awards recognize the world's most active corporates working with startups and identifying worldwide best practices in corporate-startup collaboration.
CEMEX celebrated its inclusion in the Open Innovation Challenger category. Since 2017, the building materials company has been working with startups and entrepreneurs through its Corporate Venture Capital and Open Innovation unit, CEMEX Ventures, with the aim of finding new business models and innovative solutions for the construction industry´s pain point. Together, they have launched multiple initiatives that foster collaboration between corporate leaders of the industry, startups, and investors, and have hosted for five consecutive years the biggest challenge for entrepreneurs in the Contech (construction technology) ecosystem, Construction Startup Competition with almost 2,000 startups participating since the first edition.
"We are excited to close 2021 with this incredible recognition made by Mind the Bridge. Open innovation has helped us tackle the most difficult challenges for both our company and the industry, from sustainability to digital solutions, and we´ll continue betting on these collaborations to truly foster a construction revolution" expressed Gonzalo Galindo, Head of CEMEX Ventures.
In total, 50 companies from all around the world were recognized for their work in two categories, Global Corporate Startup Stars and Global Open Innovation Challengers. CEMEX joins the latest along with Acciona, AP Moller Maersk, Banco Bradesco, Bayer AG, BayWa, BBVA, Boeing, BTG Pactual, Enagás, Eni, Grupo Bolivar, Grupo Sura, Hewlett Packard Enterprise (HPE), Hitachi, KPN, MTN Group, Rabobank, Rakuten, Shinhan Financial Group, Standard Bank, Suzano S.A, Tata Group, Tech Mahindra, and Volvo Group.
# # #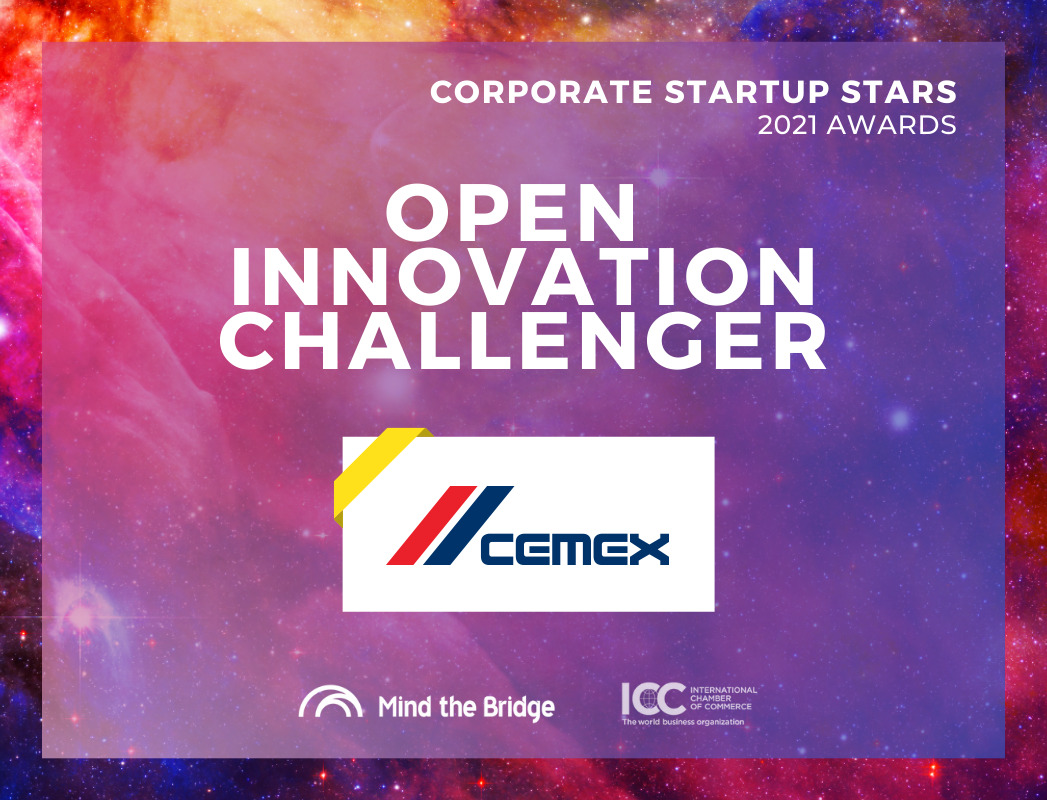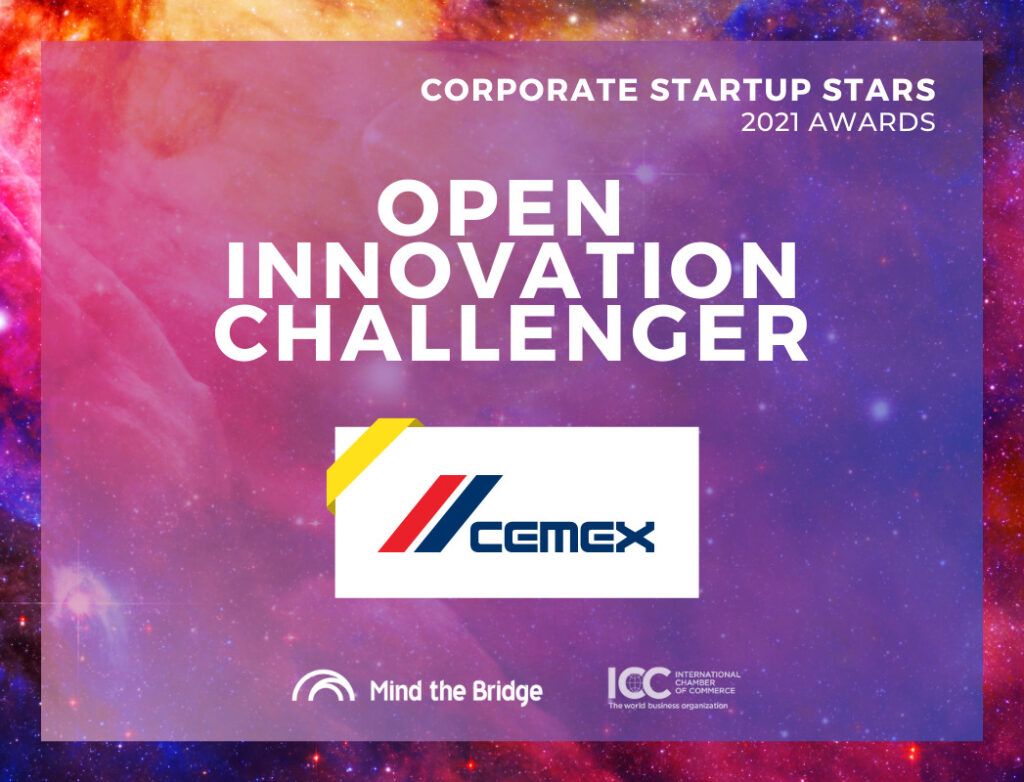 Mind the Bridge
Mind the Bridge is a global organization that provides innovation advisory services for corporate and government organizations. With HQs in San Francisco (CA) and offices in Barcelona, London, Milan, Berlin, Los Angeles and Seoul, Mind the Bridge has been working as an international bridge at the intersection between Startups and Corporates since 2007.
Mind the Bridge scouts, filters, and works with 5,000+ startups a year supporting global corporations in their innovation quest with open innovation initiatives that translate into curated deals with startups (licensing, investments, and/or acquisitions). It also provides advisory services and benchmarking on innovation strategy and structure.
Mind the Bridge, in collaboration with the International Chamber of Commerce (ICC), the 100 y.o. Institution representing more than 45M businesses worldwide, annually elaborates the "Corporate Startup Stars" Awards – the ranking of the most 'startup-friendly' global corporates.
For more info: http://mindthebridge.com | @mindthebridge
About the International Chamber of Commerce (ICC)
The International Chamber of Commerce (ICC) is the institutional representative of more than 45 million companies in over 100 countries. ICC's core mission is to make business work for everyone, every day, everywhere. Through a unique mix of advocacy, solutions, and standard setting, we promote international trade, responsible business conduct and a global approach to regulation, in addition to providing market-leading dispute resolution services. Our members include many of the world's leading companies, SMEs, business associations and local chambers of commerce.
For more info: @iccwbo
About CEMEX
CEMEX (NYSE: CX) is a global construction materials company that is building a better future through sustainable products and solutions. CEMEX is committed to achieving carbon neutrality through relentless innovation and industry-leading research and development. CEMEX is at the forefront of the circular economy in the construction value chain and is pioneering ways to increase the use of waste and residues as alternative raw materials and fuels in its operations with the use of new technologies. CEMEX offers cement, ready-mix concrete, aggregates, and urbanization solutions in growing markets around the world, powered by a multinational workforce focused on providing a superior customer experience, enabled by digital technologies. For more information, please visit: cemex.com
About CEMEX Ventures
Launched in 2017, CEMEX Ventures focuses on helping to solve the main challenges and capitalize on the opportunity areas in the construction ecosystem through sustainable solutions. CEMEX Ventures has created an open and collaborative platform to lead the revolution of the construction industry by engaging startups, entrepreneurs, universities, and other relevant actors to tackle the industry's toughest challenges and shape tomorrow's value ecosystem. For more information about CEMEX Ventures, please visit www.cemexventures.com