We are getting closer to the days where saying "can you hear me?" will no longer be the first thing a potential investor hears from you when you first meet them. As exciting and fruitful as the past digitally-led two years have been for the Contech ecosystem, which saw its biggest investment rounds to date being closed in 2021, in-person events are back to being the norm. We can´t wait to meet face to face with you this year, especially in our grand final Pitchday! 
Construction Startup Competition 2022, the biggest challenge for Contech startups and entrepreneurs from all over the world, will celebrate its final Pitchday during Procore´s Groundbreak conference, to be celebrated in New Orleans, United States on November 7-9 of 2022.
Groundbreak is the leading construction industry conference, bringing together the most passionate and innovative thought leaders from around the world. The two-day event will feature networking opportunities for all attendees, an expo hall for exhibitors and experiences, an innovation lab, and more surprising details that are yet to come.
But what´s more exiting for us? The top winners from this year´s challenge will get to pitch their solution to the jurors of the competition, composed by top management leaders from CEMEX Ventures, Black & Veatch, Dysruptek by Haskell, Ferrovial, GS Futures, Hilti, VINCI Group´s Leonard, NOVA by Saint Gobain, Procore Technologies and Zacua Ventures, and to an audience of innovators and other potential investors who are betting on new solutions to take the construction industry to a new level.
"The Pitchday provided a really nice mixture of different founders and different solutions from different countries, making it an unforgettable opportunity for us" expressed Stefan Klanner, former Managing Director of wastebox after their participation in 2021´s Pitchday as one of the winners of last year´s Construction Startup Competition.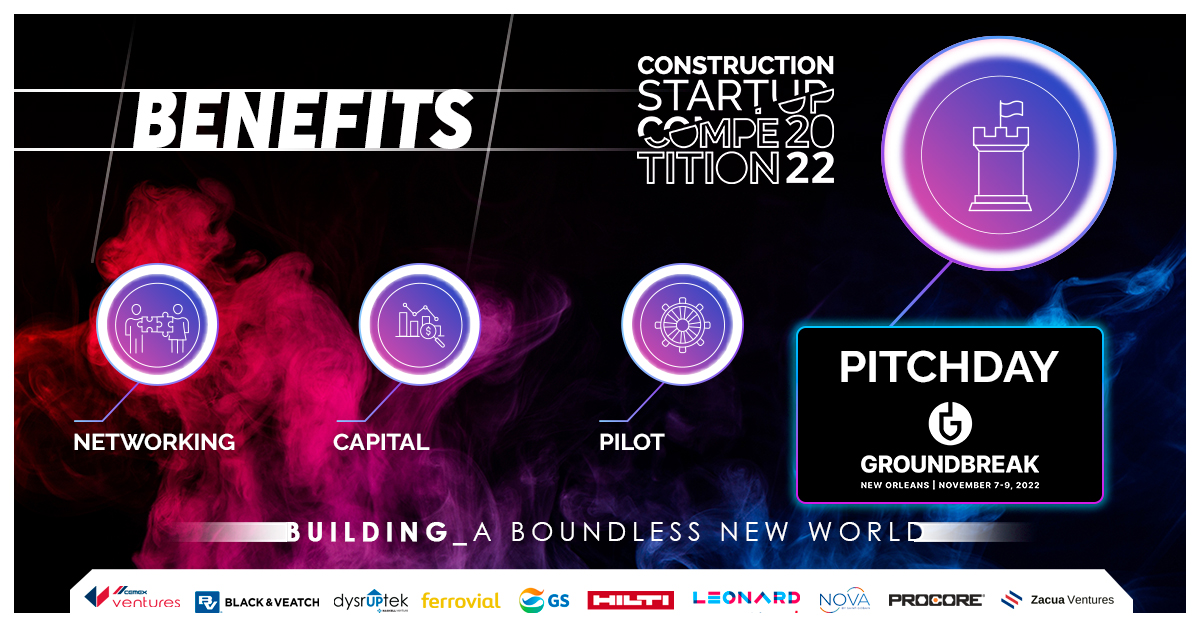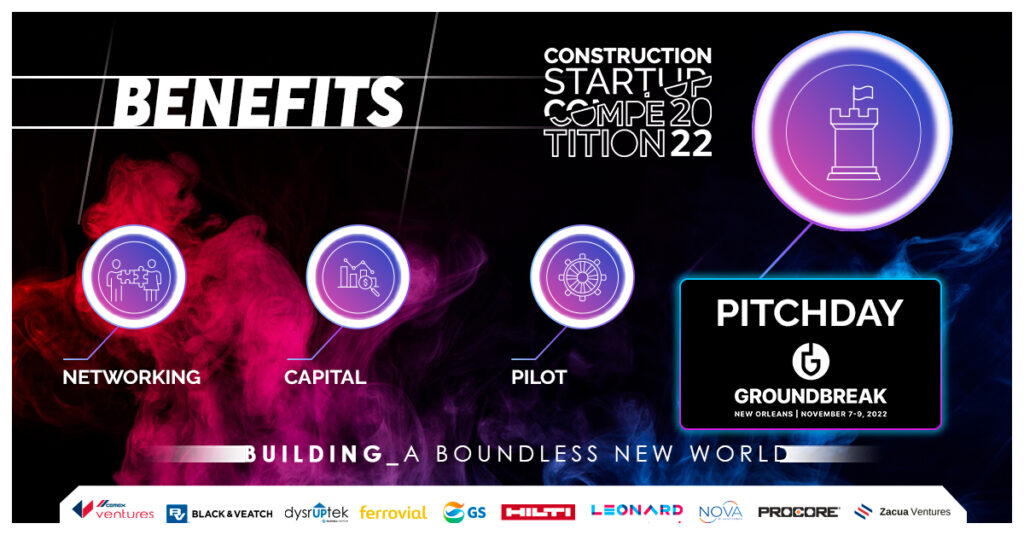 What are the benefits of participating in Construction Startup Competition?
Just by applying to the challenge, the entrepreneurs enter one of the biggest ecosystems of construction technology startups and investors. Not only do they get to knock on the door of leading corporates who are actively looking for opportunities outside of their organizations, they can also expect to begin engaging with them just months after their application.
"Startups don´t need to wait for the open call to be over before they begin seeing the benefits of this competition. If you have a solution that catches any of the 10 companies' attention, we will begin interacting with you right away" expressed Gonzalo Galindo, Head of CEMEX Ventures.
Yet, it is a competition nonetheless, and startups, investors and innovation leaders alike are always eager to learn who will make it to the final round. As former winner Alastair Blenkin, Founder & CEO of ProcurePro, said: "Being a winner of Construction Startup Competition gives you the stamp of approval that you´re a Contech future champion, and that´s been incredibly valuable to us." Wouldn´t you want to be the next to receive such approval?
Apply today to Construction Startup Competition 2022, get closer to becoming a winner and receiving all the benefits this once in a lifetime opportunity can give you:
Networking
Meet like-minded innovators from the sector, from startups and corporates, that have the same drive to change the construction industry for the better in one of the biggest events for Contech professionals in the industry. Regardless of the outcome after your presentation in the Pitchday, the relationships you build during this event can help shape the future of your company.
"The competition helped us build awareness with leading partners in the industry and provided us with a launchpad into the US market, where our offering had been unknown until that point" expressed Jeremy Hammond, Co-Founder & Co-CEO of Hypertunnel, one of the winners of Construction Startup Competition 2021 who got the opportunity to build a bridge between the UK and US after his showcase in the final Pitchday.
Similarly, Australian startup ProcurePro reflected that "the recognition, network, and relationships that came from the competition are really going to help us kick in the gear in a global scale, grow, and really become one of the future legends of the industry", emphasizing the challenge´s international and truly boundless scope.
Capital
Startups need investment, and investors want to put their money where the future is at. It´s that simple. Construction Startup Competition is THE platform to connect both and begin the relationship that will take you from acquaintances to partners.
In previous years, winners of the competition have gone to participate on important investment rounds from companies leading the challenge (and other investor who have their eagle eye set on the turnout of this event). The most recent alumni who have received investment from the competition partners are Document Crunch, winners in 2021, who became Zacua Ventures´ first invested company, and Modulous, 2020 winners, who are part of CEMEX Ventures investment portfolio even from before the competition had ended.
Pilot
But not all talk is money talk. Construction Startup Competition partners all agree that sometimes a startup is not in need of capital, but a place to test and pilot their solutions. "We want to put the startup´s solution to the test and combine our industry expertise and years of R&D with their innovative approaches so we can help them in the development of their projects," said Galindo. The insights that come out of these pilots can be crucial for a startup´s deployment and market expansion, as well as help shape a corporate´s innovation strategy on a specific area.
Pitchday
Besides all the benefits of meeting with the leaders than can potentially become your business partners in the future, being in Construction Startup´s Competition Pitchday also leverages one big factor: entrepreneur to entrepreneur relationships.
"There´s a huge amount of value by listening to other Contech founders present; hearing about their business, some of their ideas and strategies that you can reflect on your own business and take the learnings from" added Blenkin after his participation in Builtworlds Venture Conference in Miami, Florida, home of 2021´s Pitchday.
Moreso, other industry leaders value the selection that the jurors from the competition choose to invite to the Pitchday, as they know these companies have been filtered and chosen by innovation leaders who have more than one eye in the future of the sector. Hypertunnel´s Jeremy Hammond expressed that "to be promoted and seen as a leading Contech innovator on a global stage was one of the greatest benefits of the competition". The entrepreneur was able to maximize his time in his visit to Miami by meeting important tunneling corporates from the market that showed interest in his solution after his participation in the Pitchday.
Don´t wait until the final moment and start your application today for 2022´s Construction Startup Competition. We can´t wait to see what your solution can help all of us achieve together.