With one objective, to promote the construction revolution, we have achieved many goals.
In 2018 we continue with the objective of promoting the construction revolution, and for that reason, we constantly explore our ecosystem to identify the best innovative and attractive solutions. This year we have added investments such as PRYSMEX, Concrete Sensors and StructionSite to our portfolio.
Our value proposition to the inverted startups is not only economic, we offer advice and experts in the technological, economic and construction sectors. In addition to the experience and knowledge of the CEMEX Ventures team, we are building a network of experts that grows with the best profiles of each sector. This year we have redefined our focus areas from 4 to 6 to ensure that all relevant industry challenges are covered. We continue to explore the best solutions to solve the critical points and daily challenges of the construction industry.
This year we had a new edition of the Construction Startup Competition, and in it we received 4 times more applications than last year. The finalists with the solutions that best fit CEMEX Ventures' operational areas, continue in talks to strengthen the offer, with three startups that are in a very advanced due diligence process.
In addition CEMEX is once again positioned, through CEMEX Ventures, as a company that increases its intrapreneurial value. For the second consecutive year, a call was made to internal talent to study the day-to-day challenges of the thousands of workers and thus be able to develop new proposals for improvement.
Finally, in 2018 we have worked on the incubation of three startups, two of them are already in the process of commercialization, and very soon you will be able to know everything about them. This year, CEMEX Ventures positions itself as a key investor in the construction ecosystem, recognized in the BuiltWorlds Venture Investors 50 list. We have had a presence in more than 20 industry events in which we had Gonzalo Galindo as speaker and a multidisciplinary team that, beyond growing, also strengthens its presence in Mexico, Colombia and Spain.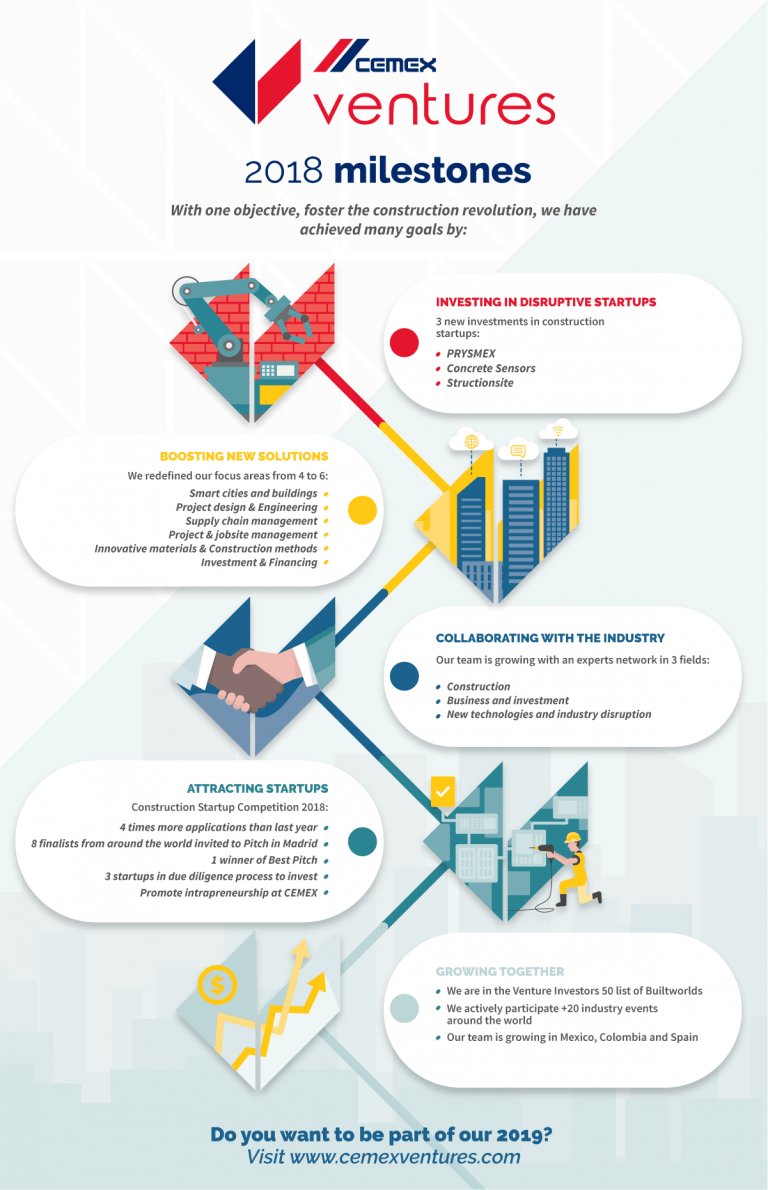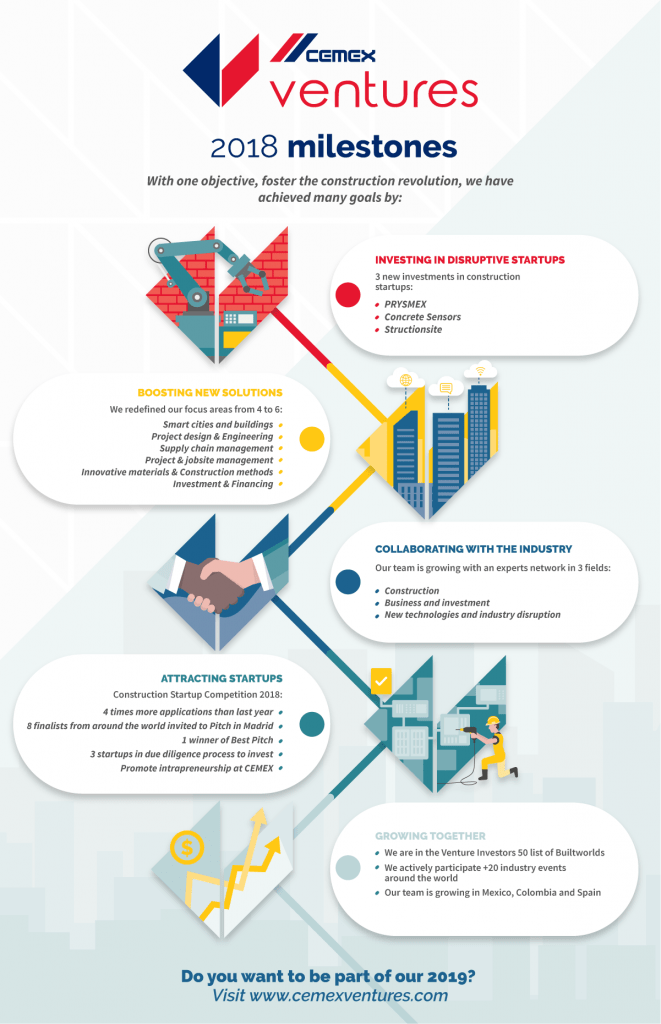 What awaits us in 2019? Bigger goals!
New destinations to boost the construction industry.

Open call to experts from the construction industry to share their knowledge in our experts network, request more information here.

A new edition of the

Construction Startup Competition

.

New incubation projects ready to be launched.
Do you want to know more? Subscribe to our newsletter and be part of our 2019.