Construction Startup Competition 2019 is about to end and if you are a construction startup and haven't applied yet it's because you don't know our investment model! We have perfected our offer to boost the scalability and global growth of construction startups to revolutionize the construction industry.
We develop a Startup Journey, the path we take with entrepreneurs until we reach their solution's success. By participating in the Construction Startup Competition 2019, you are closer to being part of the CEMEX Ventures' family and this path to success: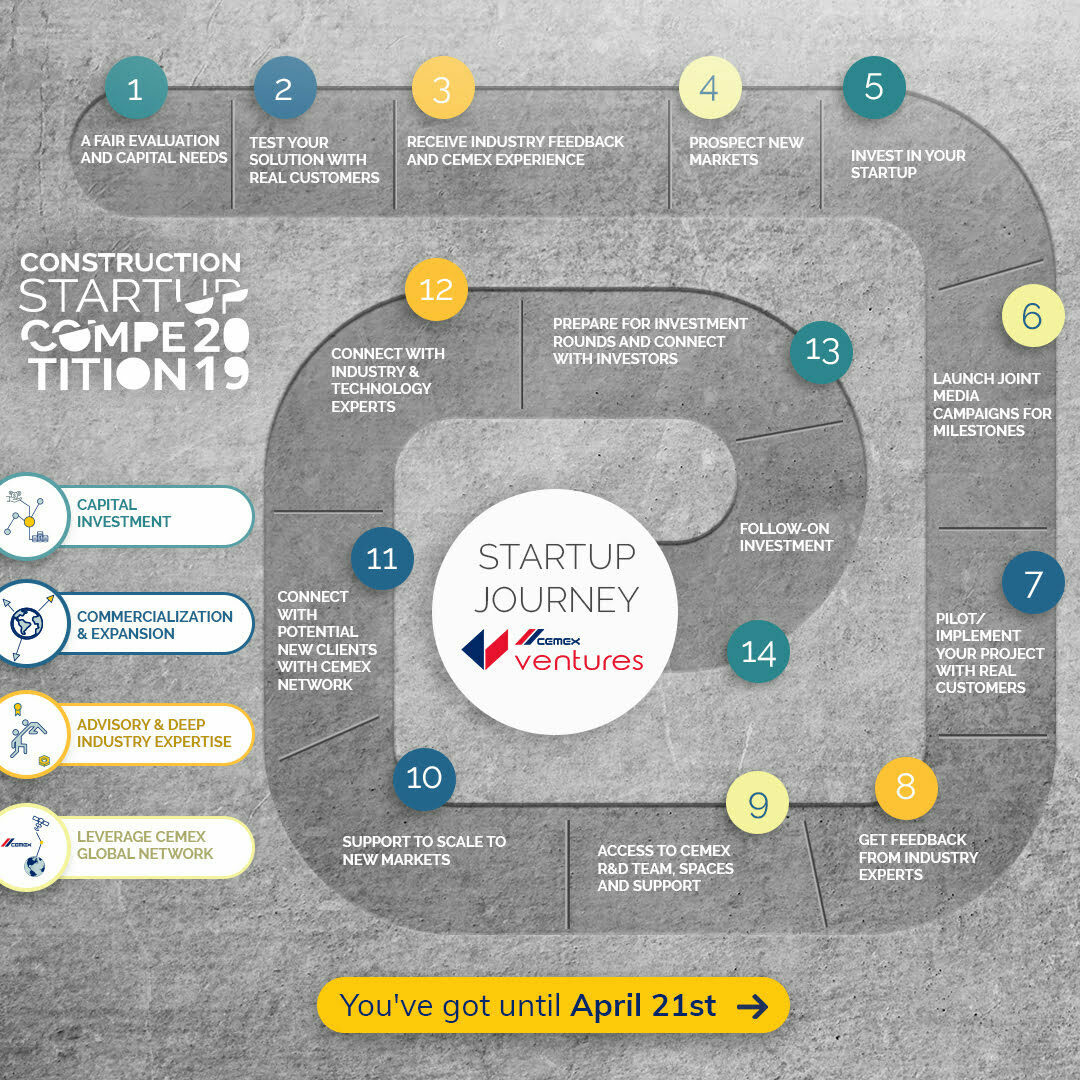 It's more than an investment
We make a strategic investment with what we call "Smart Money" to improve the business model and optimize the potential of the economic resources and the growth of startups.
Commercialization & expansion
We bet on the growth of startups offering access to key clients and professionals in the sector allowing them to share and market their solutions. We take all the startups in our portfolio to explore new geographies and establish a market outside their initial focus. We bring your offer to new foreign customers.
Advisory & Deep industry expertise
At the moment in which your startup or construction company enters our portfolio, it accesses to our feedback and insights from our experts network, allowing you to have a practical and technical approach on how to achieve your objectives.
Leverage CEMEX Global Network
CEMEX' global network allows companies in our portfolio to benefit from a wide network of services, from their research and team development to their various spaces worldwide. CEMEX opens the way to hundreds of cities where they operate.
Each startup has different needs, so we study, together with the entrepreneurs, the improvement areas of each one until they apply the necessary resources for their immediate scaling. Follow step by step what our Startup Journey would be like.
Currently, we are supporting the following startup on their journey towards success and the revolution of the construction industry:
JELP, the most trusted link between home improvement professionals and homeowners.
SAALG Geomechanics, a bridge between geomechanics and the construction industry. Engineering company and software provider specializing in real-time data analysis.
IPSUM, winners of Construction Startup Competition 2017 that offers a collaborative platform for managing engineering and construction projects based on Lean- BIM technologies.
PRYSMEX, winners of Construction Startup Competition 2017, offers a solution capable of detecting and helping to prevent workplace accidents through the Internet of Things and real-time data collection.
Concrete Sensors offers the only durable, wireless sensors made specifically for using in concrete.
StructionSite creates digital worksite models through 360º cameras that provide data to its software, which digitalizes and documents worksite progress.
LINKX a company that offers specialized software to optimize goods delivery. The company's software solution allows control of deliveries and vehicles in real time, allowing for data-based decision-making and facilitating communication.
Do you want to access our investment portfolio?
Construction Startup Competition 2019 gets you closer to being part of the CEMEX Ventures' family. Apply before April 21st here: https://cemexventures.com/construction-startup-competition/